Pennsylvanian's Rally for Infrastructure Jobs, Growing Local Communities, Harrisburg, PA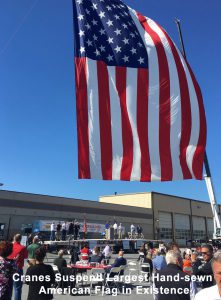 Energy Builders and local business Cleveland Brothers hosted four hundred construction and equipment supply chain professionals who build pipelines and other critical energy projects at a rally on October 19, 2017. Energy Builders members rallied to tell Pennsylvanians why expanding clean, safe energy infrastructure is vital to the prosperity of Pennsylvania's families and future.
The rally's speakers urged Pennsylvania lawmakers to speed approval of energy infrastructure construction permits, support natural gas production, and oppose the natural gas severance tax currently being debated in the state legislature.
Rally political speakers included U.S. Representative Lou Barletta, Pennsylvania Senators Scott Wagner, Scott Martin and John DiSanto, Pennsylvania Representatives Jonathan Fritz and Steve Bloom, and Bradford County Commissioner Doug McLinko.
Industry speakers included George Stark of Cabot Oil & Gas, Cleveland Brothers Equipment Company CEO Jay Cleveland, Energy Builders CEO Toby Mack, and Cleveland Brothers Wilkes-Barre Manager John Borys. Speakers emphasized the tremendous numbers of good jobs in the construction supply chain, plus the increased community economic activity, supported by energy infrastructure projects.
"The energy supply chain is interconnected which locally means that equipment supply, material supply, and trucking are directly impacted by the pipeline infrastructure buildout.  There are many other indirect benefits of this work that will impact our commonwealth.  Other businesses indirectly benefiting from this are hotels, restaurants, residential construction and commercial construction just to name a few.  Pipeline infrastructure being built in West Virginia, Virginia and North Carolina still benefit Pennsylvania by way of steel mills, equipment supply and trucking. They all represent JOBS and good paying JOBS!," said event host Jay Cleveland, President & CEO of Cleveland Brothers Equipment Company.
"Energy Builders and our coalition of large and small businesses, workers and individuals are telling policymakers: 'it's time to build.' That's the message we delivered today and one that we are spreading to communities across the country," said event sponsor Toby Mack, President and CEO of EEIA.
The massive American Flag, suspended from a pair of cranes provided by Stephenson Equipment Company, waved majestically in the brilliant sunny blue sky and could be seen for miles, prompting scores of complimentary calls from passers-by and area businesses.
The Harrisburg Energy Builders rally followed a similar event held in Tunkhannock, PA in July, and will be followed by others in 2018 in areas where production and infrastructure projects are needed, being reviewed or are under construction.