Local Officials, Workers, Rally for Energy Production in Pennsylvania
Teams of people from construction and equipment firms joined energy producers, pipeline operators, Pennsylvania legislators and area county commissioners in Tunkhannock, PA late last week for a rally in support of Marcellus natural gas. The event was held to highlight benefits to area consumers, workers and businesses from growing energy operations in the region.
Under the banner of Energy Builders, over 30 individuals from EEIA member Pennsylvania construction and equipment suppliers joined more than 400 energy and pipeline workers from northeastern Pennsylvania's rich natural gas fields, to show support for energy production and the infrastructure needed to deliver it to consumers. Rally speakers included Pennsylvania Senator Lisa Baker and Representatives Jonathan Fritz and Alan Kaufer, along with Susquehanna County Commissioner Alan Hall and Bradford County Commissioner Doug McLinko. Other rally sponsors included Cabot Oil & Gas, Southwestern Energy and Williams Companies.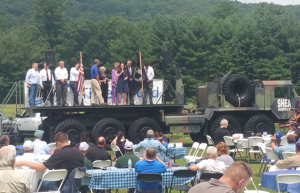 "It was an incredible show of love for natural gas and all of the prosperity and well-being it has given to the region's workers and families," said Toby Mack, EEIA's President. "Before the Marcellus miracle, this area was struggling. Now families have hope and choices, and the region's small businesses are growing, thriving and hiring. This rally says it all. These people live and work here, and they're doing well thanks to natural gas."
Joe Lundy, CFO of EEIA-member Cleveland Brothers Equipment, brought a team of seven from the Pennsylvania Caterpillar dealership. "Energy operations and infrastructure, especially pipelines, provide employment for hundreds of our people throughout the state. Marcellus natural gas has been a game-changer for us."
To sign up for alerts for future events and to see what is happening in your area, click here.
###
About EEIA
EEIA represents the shale energy supply chain – more than one million workers, employed in over 120,000 companies in 60 industries, annually contributing more than $170 billion to the U.S. economy, working in every state of the union. They provide construction, well services, capital equipment, supplies, logistics, professional services and information technology in support of shale energy operations.